"What a Day!  Learning About Islam! ": The Report on April's Monthly Program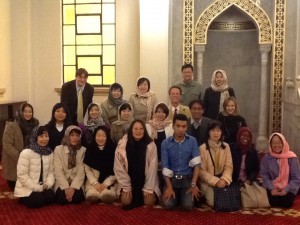 By Jeff Berglund, Prof. of Kyoto University of Foreign Studies
     The Kansai Chapter of SIETAR spent the day (April 20, 2013) learning about Islam, not by sitting in a classroom reading about Islam, or by watching a DVD, or even by inviting a guest lecturer, but by actually travelling to Kobe and visiting the Kobe Muslim Mosque, the oldest mosque in Japan.  About 20 members (with a few visiting non-members) participated in this hands-on experience.  It was the first time for many of us (myself included) to actually enter a mosque—and it was both a spiritually and sensually fulfilling experience.  The Kobe Moslem Mosque, founded in 1935, is a magnificent piece of architecture, from the outside dome and minarets to the inside atmosphere of quiet elegance and peaceful silence.  All of the women in our group covered their heads with scarves before entering, and all of us took off our shoes in the entryway before stepping into the prayer hall, a large room with a high, domed ceiling, and a mihrab, or ornamental indentation in the wall which marks the qiblah, the direction that worshippers face, towards Mecca.  Above the mihrab were two phrases beautifully written in Arabic: "La ilaha illa Allah, Muhammadur rasoolu Allah"—"There is no true god but Allah, and Muhammad is the Messenger of God."  Although the mosque is built mainly of stone, the feeling in the prayer hall was warm and welcoming.  A thick deep-red carpet covered the floor and there was almost no furniture.  Our group was swallowed up in the large space and I'm sure all of us felt the spiritual aura of this holy place.
     Mr. Arai Ahsan, the General Secretary of the Kobe Muslim Mosque, talked to us about Islam in general and about prayer services at the Kobe Mosque in particular.  Mr. Arai pointed out that the words above the mihrab are the Testimony of Faith, which is the first and most important of the five pillars of Islam.  The other four are: Prayer, which must be performed five times every day, Giving Zakat, a portion of one's income to support the needy, Fasting during the month of Ramadan, and Hajj, making the pilgrimage to Makkah (Mecca) at least once in one's lifetime.  He pointed out that it is important for Muslims to pray together at least once a week, so people gather from all around the Kansai area as often as they can.  For example, the prayer times for the day our group visited the mosque (April 20) were 3:52, 11:59, 15:40, 18:35, and 20:00.  Mr. Arai talked to our group in the early afternoon between Dhuhr (second time of prayer) and Asr (third time of prayer).  We learned that Islam is not a new religion dating only from the time of Muhammad, but a very old religion with roots going back to Adam and Eve through Abraham and on to Muhammad.
Our group of interculturalists asked many questions and there was a general feeling of reverence mixed with scholarly inquiry.  We found out that women do not pray in the ground floor area of the prayer hall, but have a separate upstairs area opposite the mihrab from which they can see the prayer hall and join in the prayers.  We also learned about the roots of the Sunni-Shia split in Islam.  Sunnis trace their beginnings to Abu Bakr, the father of Muhammad's wife Aisha, whereas Shias believe that Ali, the husband of Muhammad's daughter, Fatimah, is the rightful heir to the teachings of Muhammad.  We later learned (at Nishimura Coffee, a beautiful old three-story café with comfortable chairs, high ceilings, and a great ambiance) from Mr. Mustafa, an Afghanistan senior student at Momoyama Gakuin University, who is a Shia, that Sunnis are by far in the majority (about 85%) and have more power, but that Shias think of themselves as more directly linked to Muhammad.  As an interculturalist, I felt that Mr. Arai (Sunni) and Mr. Mustafa (Shia) might learn a lot from each other, maybe with the help of a peaceful intervention by a SIETAR member.
After our visit to the Kobe Muslim Mosque and our coffee and tea break at Nishimura Coffee, the group headed to Kobe Grocers, whose shelves are stocked with lots of American, European, Indian, and other foreign foods (I bought a bag of miniature Butterfingers) as well as a large supply of halal food for Muslims.  After that we ended our field trip with dinner together at Café Istanbul, a very authentic Turkish restaurant, whose really friendly Turkish chef not only served us excellent food, but also helped create a warm and welcoming atmosphere.  A belly dancer (Yayoi Nakanishi Lana) and live musicians provided excellent entertainment, and most of the group ended up dancing along with the belly dancer and some of the other patrons of Café Istanbul.  A great time was had by all, and it was the perfect ending to a perfect day!
SIETAR Japan, Kansai Chapter, July 2013 Meeting
"Okinawa's Invisible Minority: A Look at the Philippine Uchinānchu Nisei"
Presenter:     Ms. Johanna Zulueta PhD
(post-doctoral research fellow at Hitotsubashi University)
Date:            Saturday, July 6, 2013,    2:00pm~4:00pm
Place:           Ryukoku University, Osaka Umeda Campus
(14F, Hilton Plaza West Office Tower
2-2-2, Umeda, Kita-ku, Osaka City)  Tel:06-6344-0218
Access:       http://career.ryukoku.ac.jp/ossaka_campus/access/indes.html
Fee:     Free for members and students,   500 yen for non-members
Language:   English
There will be an informal dinner gathering afterwards.  Please let us know if you would like to join it when you come to the presentation.
Description of the presentations:
The Philippine Uchinānchu Nisei comprises a significant group of individuals living and working in Okinawa.  Born of Okinawan mothers and Filipino fathers who once worked on U.S. military bases during the immediate post-war years, these Nisei, I argue, are an "invisible minority" within the context of contemporary Okinawan society, as well as within the constitutive category of "Japanese" that tends to conflate nationality and ethnicity (and race) thus creating boundaries defining exclusion and inclusion within the nation-state.
Many of these Nisei work on military installations that dot the main island of the prefecture.  Most of them hold Japanese citizenship and thus, Japanese names, making them "Japanese" by law and by virtue of parentage.  While living as "Japanese" in legal terms, they see and call themselves as "half": "half-Okinawan" and "half-Filipino", where emphasis on "half-Okinawan" vis-à-vis "half-Japanese" indicates a claim or an assertion of one's Okinawan identity.  This claim, as well as the recognition of themselves as "half", and thus "mixed", is tied to notions of ethnicity, race, and nationality, which are interdependent and interconnected, and in many cases, considered to be one and the same.  For this study, I explore how ethnicity, race, and nationality intersect using the case of the Nisei and how these intersections enable the creation of an invisible minority within the category of Japanese nationals.  With this, I discuss how "Japanese" and "half" are both ascribed and self-ascribed identities, and how each of these two categories delineate "boundaries" and hence engage in "boundary making process/es".
About the Presenter:
Johanna Zulueta is currently a post-doctoral research fellow of the Japan Society for the Promotion of Science and is currently based at Hitotsubashi University's Transnational Sociology Program.  She graduated from Hitotsubashi University with a Doctor of Social Sciences degree in March 2011.  She is a sociologist by training and her work focuses on migration and ethnic studies, particularly on contemporary migrations between Okinawa and the Philippines.  She has also served as Lecturer of Sociology and Japanese Studies at the Ateneo de Manila University in the Philippines.
One Person Can Make a Difference
by Jason Bartashius
              On the second anniversary of the 3.11 disasters, all eyes zoomed in on the recently released World Health Organization's assessment of the health risks caused by the nuclear crisis at the Fukushima Daiichi Plant.  The report indicated the likelihood of residents contracting cancer would rise only slightly.  The findings, however, were quickly challenged by medical and biological scientists at a two-day symposium in New York titled, "The Medical and Ecological Consequences of the Fukushima Nuclear Accident."
And so the debate goes on. The conflicting opinions baffle, creating a sense of uncertainty that muddies victims' hopes for the future.  The discussions often fail to pay attention to the human struggles.  The crisis in Fukushima has torn many families apart.  Mothers evacuated with their children, who are more susceptible to radiation, while fathers stayed behind to work. Financial difficulties, health concerns, and psychological distress are just a few of the other challenges the nuclear evacuees must endure.
As part of her mission to raise awareness to the refugees' circumstances, activist Yuko Nishiyama addressed SIETAR Kansai and Osaka JALT members on March 30th in Takatsuki.
Taking Action: Yuko Nishiyama and Minna no Te
Nishiyama's presentation was a personal account of her experiences after the nuclear crisis began.  On March 12, 2011, having no knowledge of the high radiation levels, she took her daughter, Mariko, to a nearby playground in Fukushima city.      Before the crisis Mariko could only speak a few words.  But, fearing the earthquake and ensuing aftershocks she quickly learned to say "Mommy help me. The earthquake." Nishiyama hoped trips to the park might help her daughter regain a sense of normality.
It wasn't until some days later that she learned—not from the government, but through a friend—of the dangerous radiation levels.  She then realized the park was no longer a safe place for her daughter. Nishiyama's home is 60 kilometers from the crippled power plant. She later discovered the radiation level near her home had reached 625 times above normal! By March 16, she felt that she should evacuate, but her parents and her husband were against her plan. This put her in a very difficult position.
Finally, when she learned the U.S. government had issued a warning for people within an 80-kilometer zone to evacuate, Yuko resolved to take her daughter to Tokyo. She flew from Fukushima to Haneda where she saw many others also leaving—some, she reported, planned to go as far away as Malaysia and China. Nishiyama and her daughter stayed in Tokyo for two months. However, the city office could not provide any support. It would have been financially difficult for her and her daughter to remain in Tokyo.
Nishiyama returned to Fukushima during Golden Week, and although she was glad to be back with her family, her worries about food, the air, and her daughter continued to plague her. Upon learning that Kyoto City had offered free housing for Fukushima victims, Nishiyama and her daughter moved again in June.
In Kyoto, Nishiyama soon sprung into action.  She reached out to other evacuees as a way to combat loneliness in a foreign city.  By networking she was able to organize Minna no Te, a support group for evacuees, which she now presides over. Minna no Te (http://www.minnanote.com/ ) assists the over 1,000 evacuees from the Tohoku and Kanto regions now living in Kyoto and the surrounding area.  The organization accepts donations from the local community, arranges children's events, produces a newsletter, shuttles people to and from Fukushima during the summer and New Year's holidays, and is about to open a café.  You name it. They're doing it.
Since around 700 of the evacuees are from Fukushima, the organization puts emphasis on helping those affected by the nuclear crisis.  One of Minna no Te's most notable activities is the Kodomotachi no Natsu no Yume ("Children's Summer Dream") project.  Children still in Fukushima are invited to Kyoto for a week to spend time with friends who evacuated.  Nishiyama showed pictures of the activities children enjoyed last summer including their trip to Hirakata Park.  She described how volunteers sold T-shirts and collected donations on street corners in downtown Kyoto to fund the project.
Nishiyama's face lit up when she began to discuss her latest project, Minna no Café, which is scheduled to open this spring.  She explained its purpose: to serve as a place where evacuees can connect with the local community.  By employing evacuees the café can also be viewed as a means to address the economic struggles many face.
Sad Realities
Nishiyama's presentation also touched on the sad realities found in Fukushima. On a trip back to Fukushima she snapped a shot of a Geiger counter displaying one microsievert being held in front of an overgrown lot that was once her family's well-tended garden.  This is far from acceptable.
During her visits to Fukushima she also observed the ways people are learning to cope and accept the presence of radiation.  For instance, a kindergarten principal proudly showed Nishiyama a newly constructed indoor play area.  Since children's playtime outdoors has been restricted, building a facility to substitute for a playground seems to be the only feasible solution at this school.  Nishiyama questioned whether this was real progress.
Parental concern for children's health was another topic Nishiyama discussed.  More than 40 percent of children in Fukushima have been found to have thyroid abnormalities, such as cysts and growths. Studies have been conducted on a smaller sampling of children in other prefectures.  The results suggest that this phenomenon is not unique to Fukushima.
Nonetheless, parents, understandably, continue to worry.  Three children have been diagnosed with thyroid cancer bringing the total number of children "believed to be suffering some form of cancer" to 10. (http://www.japantimes.co.jp/news/ 2013/02/14 /national/ fukushima-disaster-panel-so-far-reports-three-young-people-have-thyroid-cancer/ #.UXDM44768as) As Nishiyama explained, concern and suspicion are exacerbated by many doctors' refusals to fully disclose to parents all the results of the thyroid tests.
Volunteering for a Better World
At the end of her presentation, and at the following dinner party, the conversation turned back again to volunteerism.  The audience inquired about ways to get involved.  One member offered to help arrange for Nishiyama to be a guest speaker at her university.  Another member volunteered to assist in teaching the children English at an upcoming event.
Nishiyama also invited the audience to take part in this year's "Children's Summer Dream" project.  Volunteers will be needed to help with fundraising.  People will also be needed to assist with the children's activities.  By telling her story and inviting others to help, Nishiyama relayed her conviction,  "One person can make a difference."
For related articles, see http://www.deepkyoto.com/?p=7886