Past activities
The SIETAR Kansai Chapter organizes monthly meetings, seminars and/or workshops several times a year.
Examples of previous activities:
The Sietar Kansai held a "Yuka Party" at Mr. Jeff Berglund's house which is a traditional Machiya style house located by the Kamogawa river in Kyoto. (September, 2014)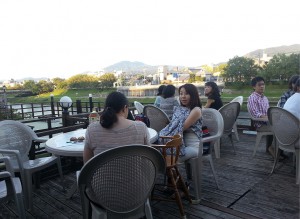 Dinner served by from traditional Japanese restaurant, which is called "shidashi bento". Drinks were prepared by ourselves.

The music performance by Mr. Berglund and Ms. Nagane after dinner

At the entrance of Mr. Jeff Berglund's house which is a traditional Machiya style house
"Resilient Minorities In Japan: – "Ainu-Maori Cultural Exchange" by Jennifer Teeter
– "Filipino English Teachers in Japan" by Jason Bartashius (February, 2014)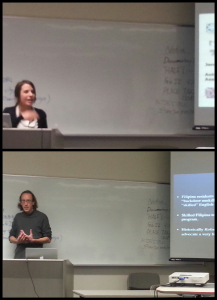 Student Fair (December, 2014)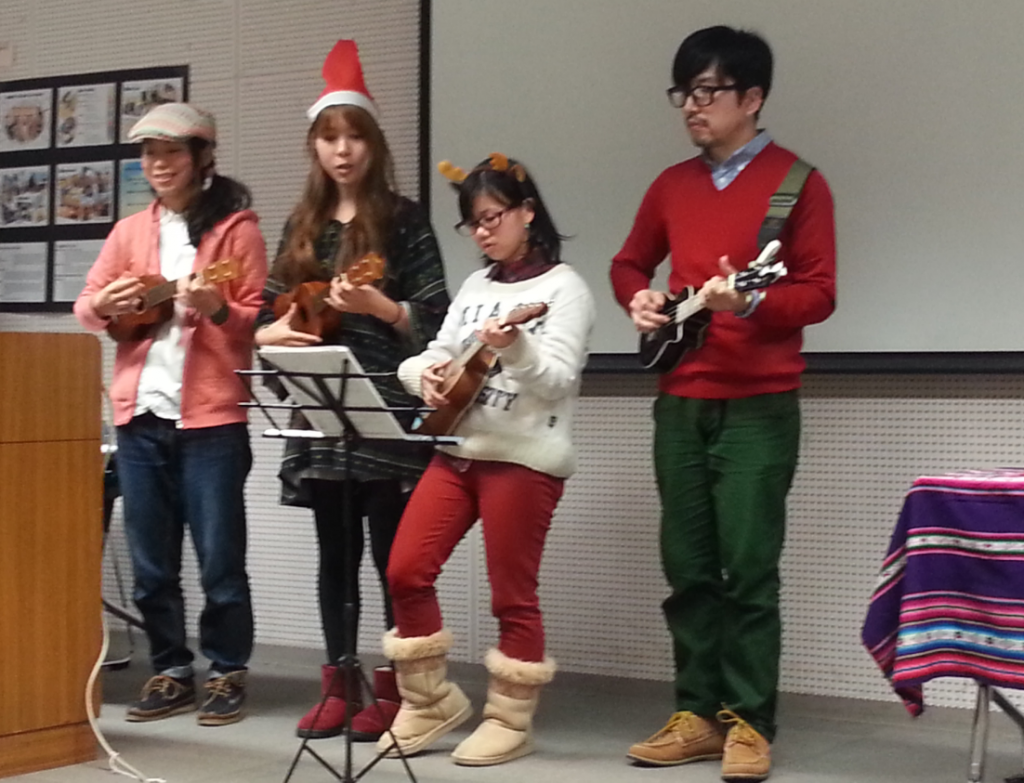 Lunch gethering with Dr. Clarke at Okinawan restaurant in Tsuruhashi, Osaka
FIELD TRIP : THE KOBE MUSLIM MOSQUE
(Monthly meeting / April 20, 2013)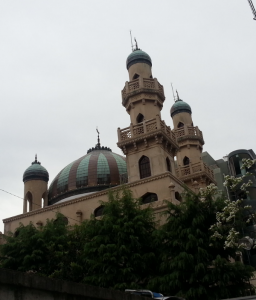 We visited the Kobe Muslim Mosque for our filed trip in 2013. Arai Ahsan, the General Secretary had a brief talk and a Q&A time there.
After the above visit, we had a coffee and tea at Nishimura Coffee shop. We invited Mr. Mustafa, an Afganistan senior student in Momoyama Gakuin University shared his experiances, Islamic culture and customs of Muslim people as a cultural informant there.
We visited Kobe Grocers (http://kobegrocers.com), and Kobe Halal Foods (http://www.geocities.jp/kobehalalfood/newpage1.htm) for the halal food.

All participants at the field trip at the inside of the KOBE MUSLIM MOSQUE. Femal participants brought scarves to cover the head.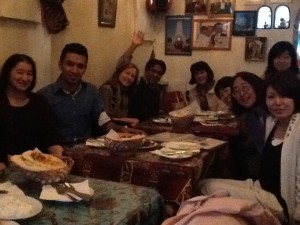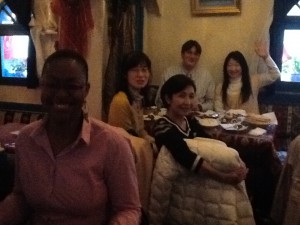 After the field trip, we had a dinner at Cafe Istanbul, an Turkish restaurant in Sannomiya, Kobe. The cheerful Turkish chef and staff welcomed us well. The berry dance was showed as a special welcoming performance by free this time.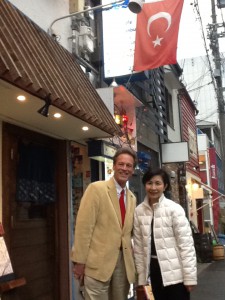 JOINT MEETING WITH JALT: "One Person Can Make a Difference", an article by Jason Bartashius in the Talk by Ms. Nishiyama
(Monthly meeting / MARCH 30, 2013)
On the second anniversary of the 3.11 disasters, all eyes zoomed in on the recently released World Health Organization's assessment of the health risks caused by the nuclear crisis at the Fukushima Daiichi Plant. The report indicated the likelihood of residents contracting cancer would rise only slightly. The findings, however, were quickly challenged by medical and biological scientists at a two-day symposium in New York titled, "The Medical and Ecological Consequences of the Fukushima Nuclear Accident."
And so the debate goes on.  Read more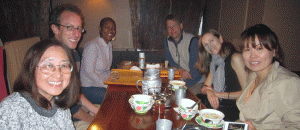 Dessart group after the event on the above.