Speaker
:
Lalita Pathela
Date: Sunday, May 26, 2019 
Time: 14:00-17:00
Venue:
Brahma Kumaris Raja Yoga Centre, Aotani Plaza #301, 4-1-3, Aotani- cho, Nada-ku, Kobe
Telephone: 078 882 5019
Directions:
From Sannomiya station, bus no.# 2 or #18 bound for Rokko. 15 mins. get off at "Aotani Bashi".
The bus stop is in front of an apartment building, "Aotani Plaza"—go to #301
From Hankyu Rokko station, bus no #2, bound for Sannomiya. 7-8 mins. get off at Aotani Bashi. Cross the road to the apartment building "Aotani Plaza"–go to #301
Fee: Free for members, students, and friends
Language:  English and Japanese
Sign up is required. To sign up, contact Donna Fujimoto (fujimotodonna@gmail.com). Include your name, how many people, and cell phone number Sign-up Deadline: May 22, 2019
Sign-up Deadline: May 22, 2019
We request guests not to carry any non-veg food in the centre.
Description of the program:
Brahma Kumaris is a worldwide spiritual movement dedicated to personal transformation and world renewal. Founded in 1937, Brahma Kumaris, with its spiritual headquarters in Mount Abu, India, comprises a global network of more than 8500 centers in over 130 countries, and it is an international NGO (non-governmental organization) of the United Nations. It is the largest spiritual organization in the world led by women. Brahma Kumaris offers a wide variety of programs, workshops, and retreats on the spiritual dimension of personal development, community building, and the well-being of our planet. It has also been actively participating in climate change conferences.
Participants in this session will see a brief video about Raj Yoga meditation and philosophy. There will be a guided meditation followed by a question and answer session. In the latter part, there will be a workshop on Virtues, a hands-on game called Discovering Virtues, and finally a guided meditation commentary on Virtues. Questions about the organization, the philosophy, and about the experience of meditation will be warmly welcomed.
Profile of speaker:
Lalita Pathela grew up in Assam and Delhi and came to Japan in 1978. After a few years, she became interested in studying different religions. This was probably preparation for opening her mind to spirituality, as soon afterwards she came across a Brahma Kumaris meditation teacher visiting Kobe. Lalita's logical and rational mind, coupled with an unconventional character, had finally found a teaching that made complete sense and quickly brought her back to a disciplined lifestyle.
Lalita is a meditation teacher at the Kobe Brahma Kumaris center, conducting courses, workshops and parents' retreats in Japan and other countries. She has also worked as an Assistant Language Teacher in Japanese high schools, has taught English at the Kobe YWCA, has been a Hindi tutor to Indian children studying at Canadian Academy, has been a judge for oratorical contests, and has taught Indian vegetarian cooking classes.
Presenter: Tomoyuki Tajima(University Lecturer)
Date: Sunday, December 9th, 2018 (2:30pm~5:30pm)
Place: Takatsuki Sogo Shimin Koryu Center, 4th floor, Room 4
(1 minute from JR Takatsuki station)
https://www.google.co.jp/maps/place/ Tel. 072-685–3721
Fee: Free for members and students; 500 yen for non-members
Language: Japanese
Social event: There will be a Bonenkai at a nearby restaurant afterwards. Reservations for dinner are required by Wednesday, December 5th. Contact fujimotodonna@gmail.com
Description of the Presentation
We are surrounded by a wide variety of media such as TV, internet, mobile phones, newspapers, etc. How does the Japanese media portray messages about "foreigners" or "foreign countries"? To create a society that values diversity, it is vital to look critically at how the media portrays them. In the first half of this workshop, the speaker will explain how we can develop critical and creative perspectives about today's media. In the latter half of the workshop, the participants will have the opportunity to engage in discussion to analyze "foreigners" in the media and to examine the relationship between us and the media.
Profile of the Presenter
Tomoyuki Tajima currently teaches at several universities, such as Kyoto Prefectural University and Kwansei Gakuin University. He is a board member of the NPO FCT Study Group of Media Literacy, and he is also involved in the activities of young people frommulticultural backgrounds. Tajima is the co-author of Introduction to the New Study Guide of Media Literacy (Liberta Shuppan), and the co-translator of the book entitled, Curriculum for Media and Information Literacy for Teachers(UNESCO/AMILEC).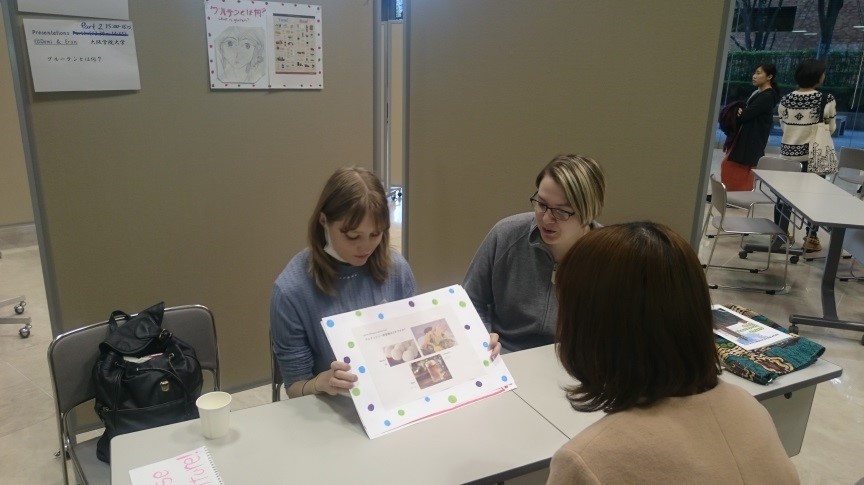 SIETAR Student Fair 2018
Intercultural Experiences
        –by SIETAR KANSAI
Date: Sunday, November 4, 2018
Time: 13:00-17:00
Place: Takatsuki Sogo Shimin Koryu Center (1 minute from JR Takatsuki Station)
http://www2.wagamachi-guide.com/takatsuki/map.asp?dtp=1&uid=305&lid=6&mpx=135.6219697&mpy=34.84880424&mps=2500
Language: English or Japanese
Theme: Intercultural Experiences (studying, working, volunteering, doing service learning, etc.)
Students from the Kansai area are invited to participate as presenters or spectators. Presentations are informal and conducted for small groups on topics related to intercultural experiences while studying, volunteering, doing service learning, community engagement in either Japan or countries abroad. Presenters can participate as individuals or as a group, and should bring pictures, posters, goods, etc. Spectators can move around the fair to listen to various speakers, and presenters will have a chance to listen to other speakers. Presentations and discussions may be conducted in either English or Japanese. Groups should be prepared to introduce their activity in English in a minute or less. Faculty are encouraged and welcome to attend.
      Teachers, please encourage students to join the SIETAR Student Fair!