Speakers: Liz Leigh (Osaka City University) & Kent Nakai (Osaka-fu, Suita city Aoyamadai junior high school, 2nd year)
Date:           July 25, 2020 (Saturday)                                  
Time: 14:00-17:00
Fee: Free for all
Language: English (Q & A in English and Japanese)
ZOOM Online presentation *registration required*Contact: fujimotodonna@gmail.com to get the Zoom link; for any questions.
The Sustainable Development Goals from Two Perspectives
In 2015 the United Nations General Assembly (UNGA) set 17 Sustainable Development Goals (SDG), and countries around the world have pledged to achieve them by the year 2030. These goals address social, economic and environmental issues, such as eliminating poverty and hunger, working for gender equality, supporting education for all, and protecting our planet. Two speakers will address sustainability.
Developing Education for Sustainable Development
This session will introduce two university-level advanced English courses which focused specifically on Education for Sustainable Development (ESD). The visit by the Director of the United Nations Environment Program (UNEP) in Osaka was especially effective in advancing student knowledge and raising the possibility of inviting more guest speakers in future. These courses will hopefully also inspire students to create and run a composting project on campus.
Liz Leigh is a graduate of Aberystwyth University in North Wales, and she has an M.Ed. in English Language Teaching (ELT) from Manchester University, UK. She first came to Japan in 1991, and she has taught in Tokushima prefecture in Shikoku, Oita city in Kyushu, and Taichung in Taiwan. She is currently teaching full time at Osaka City University. Her hobbies are scuba diving, hiking and swimming.
PET Bottle Eco Farming
Kent Nakai has participated in many robotics competitions: in 2018 he placed 1st in Osaka, 3rd in the Japan finals, and went on to the World Robot Olympiad competition in Thailand. In 2019 he won more awards and went on to the World Robot Olympiad in Hungary. When he was competing in Thailand, he first got the idea for his presentation today–on eco farming. For 10 days in the summer of 2019, Kent received training in Sustainable Development Goals at the United Nations office in Geneva where he and other junior and senior high students visited different UN agencies and worked together in groups learning and making presentations on the SDGs. This experience helped Kent improve his work on eco farming, and in this session he will explain how his project is connected to the SDGs.
Kent Nakai is a 2nd-year junior high school student in Suita, Osaka. At age 10 he participated in several mathematics competitions, where he placed 4th and 2nd. In 2018 and 2019 he competed in many robotics tournaments where he received many awards, allowing him to travel to Thailand and Hungary. In 2019 he was selected by Innovator Project to be part of a youth program at the United Nations SDG Lab in Geneva along with a visit to Malmö, Sweden. A key concept he learned from this experience is: "There is no garbage in the world, everything can be a resource." His main interest is in sustainable farming using robotics, and asked about his goal in life? "to improve the world and space environment in the future."
Speaker: Andrea De Antoni (Ritsumeikan University)
Date: Time: 14:00-16:30
 ZOOM Online Presentation * Registration Required
Fee: Free for all who register
Language: English
Description of the program:
While we may enjoy singing the song, 'Heaven is a Place on Earth,' this session will look seriously at 'Hell is a place on earth.' This refers to Osorezan (literally translated as 'Fear Mountain'), which is the place in Aomori where Japanese mythology says the spirits of the dead gather. The presenter has visited many haunted places from Osorezan to Kyoto, and as an anthropologist has done extensive ethnographic research both in and outside of Japan.
Existing academic literature tends to analyze hauntings in a metaphorical sense, focusing on meaning making, social memory or hope, and it does not sufficiently consider peoples' actual experiences with ghosts. De Antoni notes that hauntings are fundamentally affective—they are 'practices of feeling with the world.' He will shed light on the processes through which bodily perceptions and discourses of social memory are entangled. He will discuss the relationships between and among bodily feelings, the environment, and power. Be forewarned, do NOT ask the speaker if he 'believes' in ghosts and spirits. He is agnostic and adheres to the researcher code of retaining an objective stance, yet to 'take different worlds seriously.'
Profile of speaker:
Andrea De Antoni is an Italian anthropologist at Ritsumeikan University, where he teaches socio-cultural anthropology and religious studies. His research interests include perceptions of space, identity and discrimination, religion and religious healing, experiences with spirits, spirit possession and exorcism. He is currently studying spirit/demonic possession and exorcism in contemporary Japan, Italy, and Austria from a comparative perspective.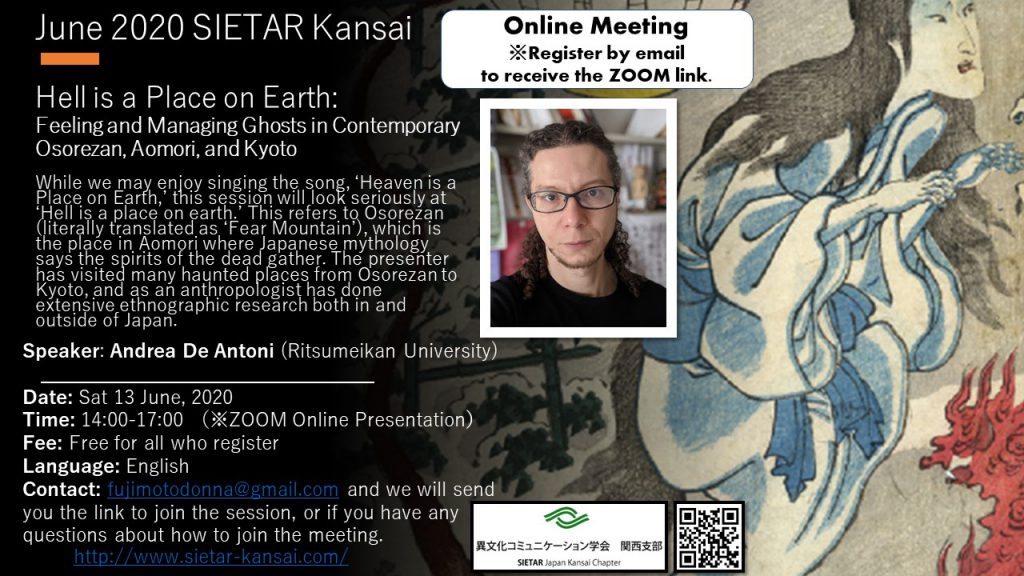 Due to the COVID19 (Novel Coronavirus) outbreak, all SIETAR Kansai Chapter events and meetings for April have been cancelled or postponed. A decision for May will be made at a later date. We apologise for any inconvenience. 
1st April 2020.