Speaker: Mariko Yamaoka (Director, Not For Sale Japan (NFSJ)
Date:   July 18, 2021 (Sunday)
Fee: Free for allLanguage: English
Time: 14:00-17:00
Description:
Today, there are more than 40 million "modern slaves" in the world, despite the fact that slavery is supposed to have been abolished long ago and is illegal anywhere on the globe. Human trafficking, or trafficking in persons, as defined by the United Nations, is the act of recruiting, transporting, transferring or harboring of people for the purpose of exploitation by means of deception, threat, violence, or taking advantage of those in vulnerable positions. In other words, human trafficking is the process of enslaving other people. 
But who are the slaves? What are they forced to do? How have they fallen into slavery? Why can they not escape from the situation? In what country and in what places does human trafficking take place? Who are the perpetrators? Is there any way to rescue the victims and prevent it from happening? What are the governments and the UN doing for it? What can we do to stop it?  
Human trafficking is happening in Japan. However, most people don't know it. Why? It is because human trafficking is a crime hidden in the shadow. But the victims are not always locked up and are likely to be walking around in plain sight. Actually those who are victims of sexual exploitation and labor exploitation are often not recognized as victims of human trafficking but of other crimes and problems. Let us discuss and think about how we can contribute to the solution of this serious human rights violation.
ZOOM Online presentation *registration required*  Contact: fujimotodonna@gmail.com to get the Zoom link and for any questions.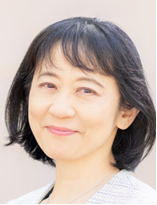 Mariko Yamaoka.
After working as a translator for more than 10 years, Mariko Yamaoka planned and translated David Batstone's book "Not For Sale" into Japanese in 2010. In the following summer, she launched Not For Sale Japan as the Japan chapter of the California-based charity "Not For Sale" founded by Batstone. She has been working to raise awareness of the issue of human trafficking, also known as "modern slavery", through lectures, presentations, events, exhibits, film screenings, campaigns, and information dissemination with other volunteer staff members.    Yamaoka also participates in JNATIP, the Japan Network Against Trafficking In Persons, as a member of the steering committee; she engages in communications with the Japanese government and sends comments to the UN. She is a co-director of SSRC, the Citizens' Network to Build a Sustainable Society through Responsible Consumption, and advocates ethical consumption to the business sector and to consumers.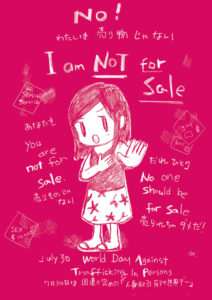 発表者: 山岡万里子(ノット・フォー・セール・ジャパン(NFSJ)代表
日程:  2021年7月18日(日)    
時間:  14:00~17:00
費用:  無料
言語:  英語
ZOOM Online presentation *registration required*
お問い合わせ先: お申込み、または、お問い合わせは、fujimotodonna@gmail.com  までg
概要
 今、世界中に4,000万人以上の「現代の奴隷」がいるとされています。奴隷制はとっくに廃止され、今や世界中で違法とされているにも関わらず……。
国連で定義が定められている「人身取引」とは、人を搾取することを目的に、その人を騙したり脅したり暴力をふるったり弱い立場につけこんだりする手段を使って、人を勧誘したり移動させたり引き渡したり監禁したりする行為です。つまり、人を奴隷にするプロセスが「人身取引」なのです。
いったいどんな人が奴隷なのか、彼らは何をさせられているのか、どうして奴隷になってしまったのか、なぜ抜け出せないのか? 人身取引はどんな国のどんな場所で起きているのか、加害者はどんな人なのか、被害者を助けたり被害を防いだりできないのか、政府や国連は何をやっているのか、私たちにできることはないのか――? 
人身取引は日本でも行われています。ところが、一般の人々の多くはそのことを知りません。なぜなら、人身取引は隠れた犯罪だから。でも被害者は必ずしも監禁されているわけではなく、実は私たちの目に見えるところに存在している可能性もあります。実は、労働搾取や性的搾取で被害に遭っている人たちは、「人身取引の被害者」としてではなく、別の問題の被害者として認知されることが多いのです。
どうしたら、この深刻な人権問題を解決していけるのか、ぜひ皆さんと共に考えていきたいと思います。
講師プロフィール: 山岡万里子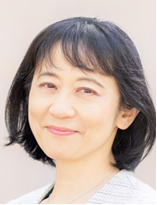 出版翻訳に十数年たずさわった後、バットストーン著『Not For Sale』を自ら企画翻訳した(『告発・現代の人身売買』朝日新聞出版/2010年)ことから、米国拠点のNGO〈Not For Sale〉の日本支部として、2011年夏にNFSJを設立。ボランティアで集まった仲間たちと共に、講演・出張授業・ミニ学習会・イベント出展・映画上映会・キャンペーン・情報発信などを通じ、「現代の奴隷制」と呼ばれる人身取引問題の啓発に取り組んでいる。
また日本における人身取引問題に取り組む「人身売買禁止ネットワーク(JNATIP)」の運営委員、エシカル消費を推進する「消費から持続可能な社会をつくる市民ネットワーク(SSRC)」の共同代表幹事を務め、それぞれ政府・国際機関、企業・消費者に対し積極的な働きかけを行っている。