Documentary Film: 600,000 Tries – the Osaka Korean high school rugby team. Towards a Japanese society where all are equally respected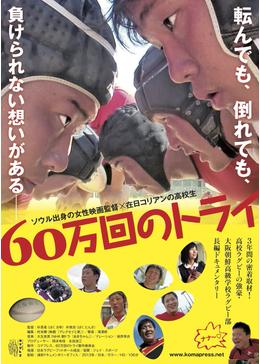 Speaker:  Park Donsa (Co-director)
Date: Saturday June 29, 2019 
Time: 14:00-17:00
Venue: Takatsuki Shiritsu Sogo Shimin Koryu Center (2 minutes walk from JR Takatsuki Station), Audiovisual room (5th floor)  https://goo.gl/maps/Q5jm7UxbGZVqyQ1X9 Tel. 072-685-3721
Fee: Free for members and students; 500 yen for non-members. No preregistration required.
Language: Film in Japanese and Korean (with English and Japanese subtitles, an interpreter is available for Q & A )
Social event (optional): Dinner after the session at a restaurant nearby. Reservations for dinner required by June 26th. Contact: fujimotodonna@@gmail.com
Description of the program:
The Rugby World Cup will be held in Japan this year from September, and the Hanazono Rugby Football Stadium in Higashi-Osaka City is one of the venues for the matches. Osaka Korean High School has a powerful rugby team, and the school is located near this stadium. The efforts of this rugby team were closely followed for three years, and the result was this documentary film depicting the students of the rugby football team. The film captured the students' youthful energy along with their love of K-pops, J-pops, as well as the popular songs of North Korea.
Recently, Korean schools in Japan have been facing great difficulties. They are excluded from the law allowing free education, and funding from the local governments has been suspended or reduced. Furthermore, equal opportunity for the employment of Korean residents in Japan is not fully promoted. After the film there will be an opportunity to talk with one of the two directors. Through watching the film and talking with the director, it will be a good occasion to reflect upon the possibility of a Japanese society where everyone is equally respected.
Profile of director:
Park Donsa is the Co-director of 600,000 Tries. He is a third-generation Korean resident in Japan. He was born in Kyoto and raised in Kobe and Osaka, and he began his career in filmmaking in 2008. In 2010 he founded a film company named, Komapress, together with Park Sayu, who is a journalist from Seoul and the other director of the film. The two started to make this film in 2010 and completed it in 2013.